News:
Events:
TTAG and IAC Event

Saturday 15th November, 2014

10.30am – 4pm

Cost: Free

Venue: Intercountry Adoption Centre,

22 Union Street,

Barnet

Hertfordshire

EN5 5HZ

Nearest tube: High Barnet (on the Northern Line, Zone 5)
Registration: 10.30 a.m. Workshop starts 11.00 a.m.
Guest Speaker: Precious Williams, author of "Precious: A True Story", her memoir about growing up in transracial private foster care in the UK.

Facilitators: Perlita Harris (TTAG), Chris Atkins (TTAG) and Rose Dagoo(IAC)
This event is for all adopted adults and long-term fostered adults who have an international element to their adoption. That is, adopted adults/ long term fostered adults who are considering searching, in the process of searching or have completed a search for information and/or birth family in another country. The day will be facilitated by Perlita Harris (TTAG and editor of In Search of Belonging: Reflections by Transracially Adopted People and The Colours in Me: Writing and Poetry by Adopted Children and Young People ) and Chris Atkins (TTAG Founder Member) and Rose Dagoo (Social worker and Counsellor IAC).

As some of you are aware the previous meetings of International Searchers' Get Together that have been taking place since October 2008 have been well received. We hope that those of you who have never attended before would like to come and of course we look forward once again to welcoming those of you who have attended the previous events.
You do not need to have attended the previous events to come along to this one. It is open to
transnational adoptees (i.e. those born in another country and adopted into another country in the UK or elsewhere) who are thinking about searching, searching or have already searched for information relating to their adoption and/or birth family in their country of birth;
adoptees who were born in the UK and are searching, considering searching or have already searched for a relative or relatives who may live in another country (e.g. USA, India, Trinidad or France);
adults who have been long-term fostered (and never legally adopted) and who are searching, considering searching or have already searched for information and/or birth family in another country.
It is not open for family members and/or partners as per the decision of the group at the previous meetings.

The event is being held because we recognize that the process of searching for records or birth relatives can be difficult and frustrating and often adopted people feel that they are very much on their own searching for information and/or birth family. It is hoped that this event will also provide a supportive and useful forum for adopted adults to meet other adopted people and share their experiences.

Please bring a packed lunch with you. Alternatively, you can buy something from a nearby bakery or shop. Light refreshments/drinks will be provided.

For those of you who will be traveling to London the night before, details of local B & Bs are available from the Intercountry Adoption Centre.


To book a place at the workshop please telephone Grace Rogers on 020-8447-4751 or click on the link below to email:
GRUB 'N' PUB LONDON SOCIAL
TUESDAY 20TH March, 2007.
Report By: Perlita Harris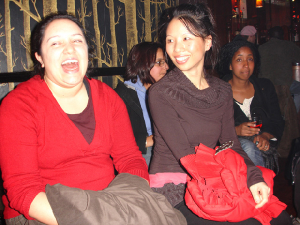 A big thank you to everyone who braved the cold and sleet to come along to the TTAG Social last night in Chinatown, London!

We met in a Chinese restaurant in Chinatown at 6pm and then just before 8pm moved on to a nearby bar where we continued to chat informally in small groups. I hope that everyone agrees that we had a good time, eating and talking about our own experiences of adoption, search and reunion, and Angelina Jolie's adoption of a three and a half year old Vietnamese boy (currently in the media).

The number of members who came along was relatively small (9) (probably due to the weather) but this meant that we all got a chance to talk to each other. As with the last few TTAG Socials, between us we had a wide range of experiences of adoption.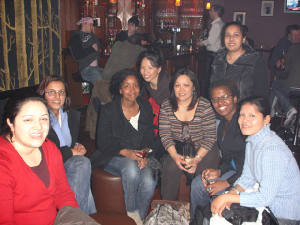 Our parentages were wide-ranging, also: Indian (born in the UK), El Salvadorean (born in the UK), Peruvian, Ethiopian, Chinese, Haitian, Chinese (born in Hong Kong - two people) and Pakistani (born in the UK).

A number of members expressed interest in meeting other transnational adoptees from the same birth country of origin: Haiti, Peru and Ethiopia.

Several people were attending a TTAG Social for the first time, including Jennifer from California who hopes to set up a TTAG group in San Franscisco (USA).

The next London-based TTAG Social is being arranged by TTAG member, Judith, and is likely to be activity-based followed by a meal in a restaurant. The event will probably be on a Saturday afternoon/evening in either late April or May. Details will be posted on the website in due course.
Pictures courtesy of Perlita Harris © 2006 Transnational and Transracial Adoption Group
INAUGURAL TTAG SOCIAL EVENT!!
Saturday 16th September, 2006

Report by: Perlita Harris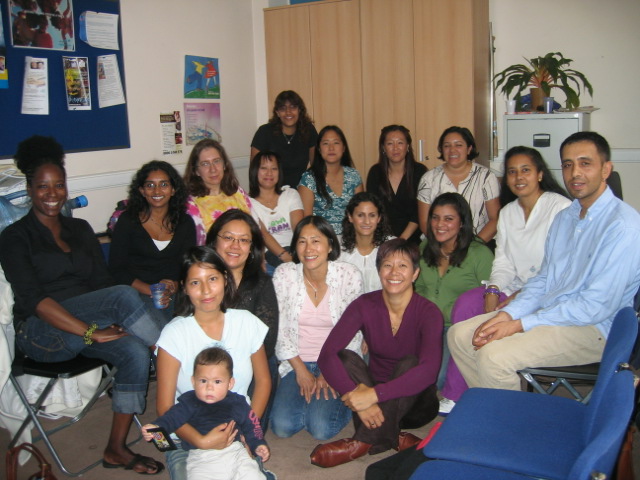 Picture courtesy of Dominique Rhodes © 2006 Transnational and Transracial Adoption Group
Wow!! Saturday's Social in London was amazing. Now, where to start?! There must have been almost 20 of us, some people arrived early and others were still arriving 3 hours later! We were a mixture of transnational and transracial adoptees, some London based but many people had travelled from different parts of the country - from Cambridge, Derbyshire, Preston, Bournemouth, Welwyn Garden City, Hertfordshire. There were transnational adoptees who had been born in: Singapore (2), Columbia, Peru, Hong Kong(3), El Salvador(2), India (2), Japan, and Nigeria. Those of us born in England were of a range of parentages too: Indian, Italian/Fijian (Polynesian), Libyan, Pakistani/Swedish, Pakistani/Jamaican/Italian. (I hope I've remembered correctly - apologies to anyone whose parentage I may have described incorrectly or anyone I haven't mentioned). We chatted and we chatted, in small groups, while bags of crisps, chocolate biscuits and other snacks were passsed around. Some of us exchanged contact details and a few people bought copies of 'In search of belonging: Reflections by transracially adopted people'. Then, at about 4.30 pm, we vacated the venue and the remaining group moved on to a bar or restaurant. All in all, it was very successful and I think that everyone enjoyed themselves. For some, this was the first time they'd met another transracially adopted person. For one person, this was the first time she'd met another adoptee from the same birth country!



The next TTAG Social will be on a Saturday afternoon at the end of November in London (date and venue to be confirmed). And, in the meantime, David will be organising a TTAG get-together in Manchester. If you've any ideas on what you'd like from the next Social or feedback on Saturday's one, we'd love to hear from you.



Finally, we would like to extend our 'thanks', once again, to After Adoption whose offices were put to great use. Valerie Sayers, Service Manager, Southeast Region was in attendence for the first 1/2 hour. We look forward to further collaborative events/projects in the future...!